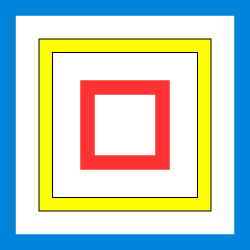 What is MapPort®?
MapPort® is a web map platform on which uniquely composed maps serving specific economic sectors are rapidly built and deployed remotely. With MapPort®, most relevant datasets meeting the specialized needs of our sector clients are already sourced, compiled, symbolized, and ready for immediate use. All our data sets and map layers are continuously maintained and served fresh across all our client maps through the MapPort cloud platform. As for proprietary data our clients wish available in a map, ENPLAN geospatial technologists process and display it optimally, quickly, and economically.
Why MapPort®?
Many economic sectors that stand to benefit from geospatial technology are underserved or not served at all. The principal reason is that the software available to serve the needs of these sectors is premised on the notion that they have the resources to utilize software designed to serve all operations, regardless of their unique needs or nature. The specialized knowledge and skill needed to adapt this one-size-fits all technology to meet the needs of underserved organizations in these sectors is greater than they can sustain individually inhouse. The creation of useful and effective online maps requires levels of training and familiarity with the technology beyond that practical for most professionals to attain along with their expertise. Hence the gap between application of the software and its capacity.
The structural solution lies in forming nodes of knowledge and skill that operate remotely and serve sectors with geospatial solutions designed to address their unique needs as sectors and individual organizations within them.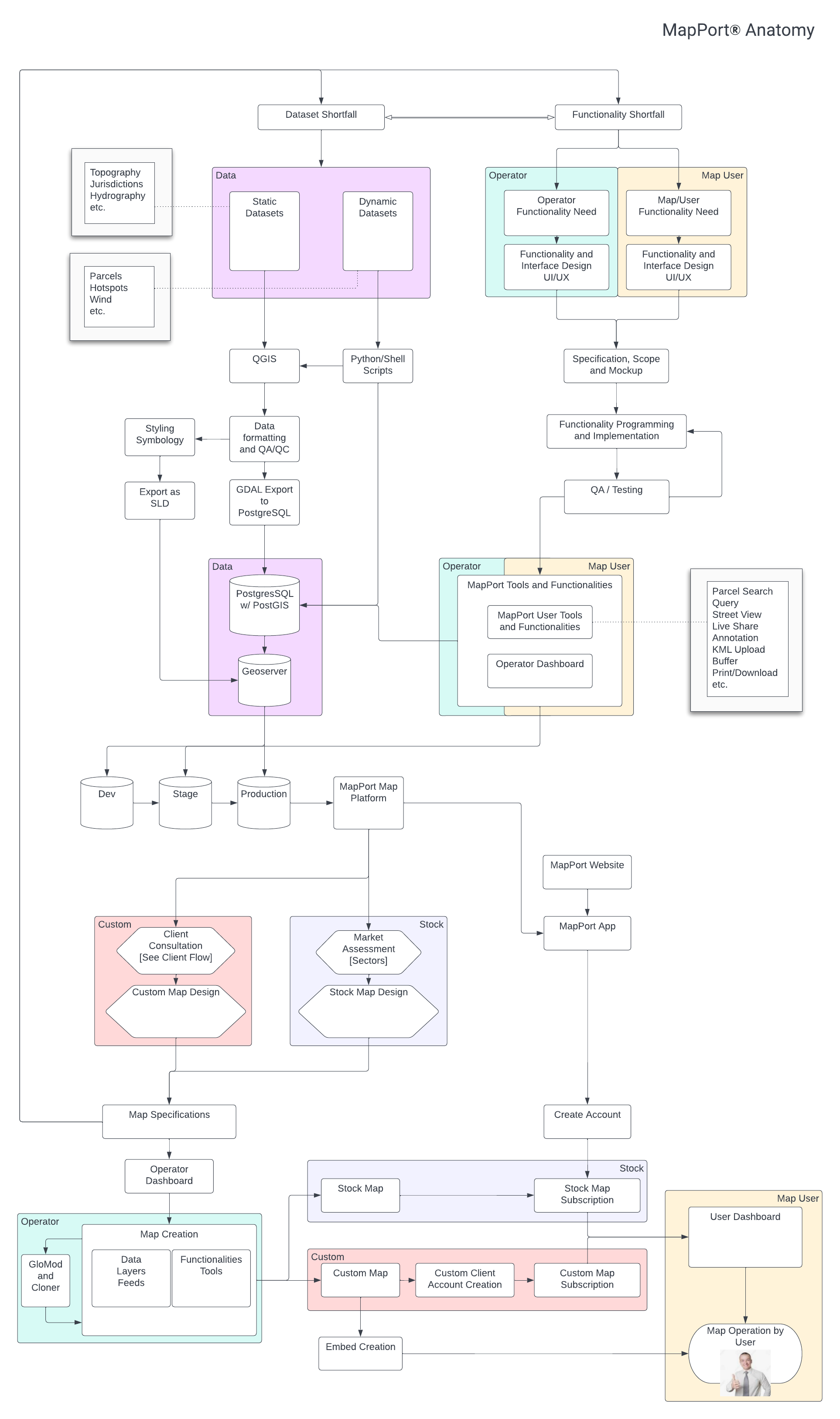 Can MapPort® be a custom map solution for my organization?
Yes, our team of geospatial technologists builds and maintains maps responsively as client needs emerge. Maps are created either as standard subscription or custom solutions. This removes the necessity for clients to become their own map compilers. Instead, ENPLAN specialists do it. The MapPort interface and foundation code are not encumbered with the apparatus necessary for map compilation by the user. Likewise, our geospatial technologists can focus on intuitive front-end operation, optimization of cartography, and rendering of data in manners that maximize client benefit and map utility.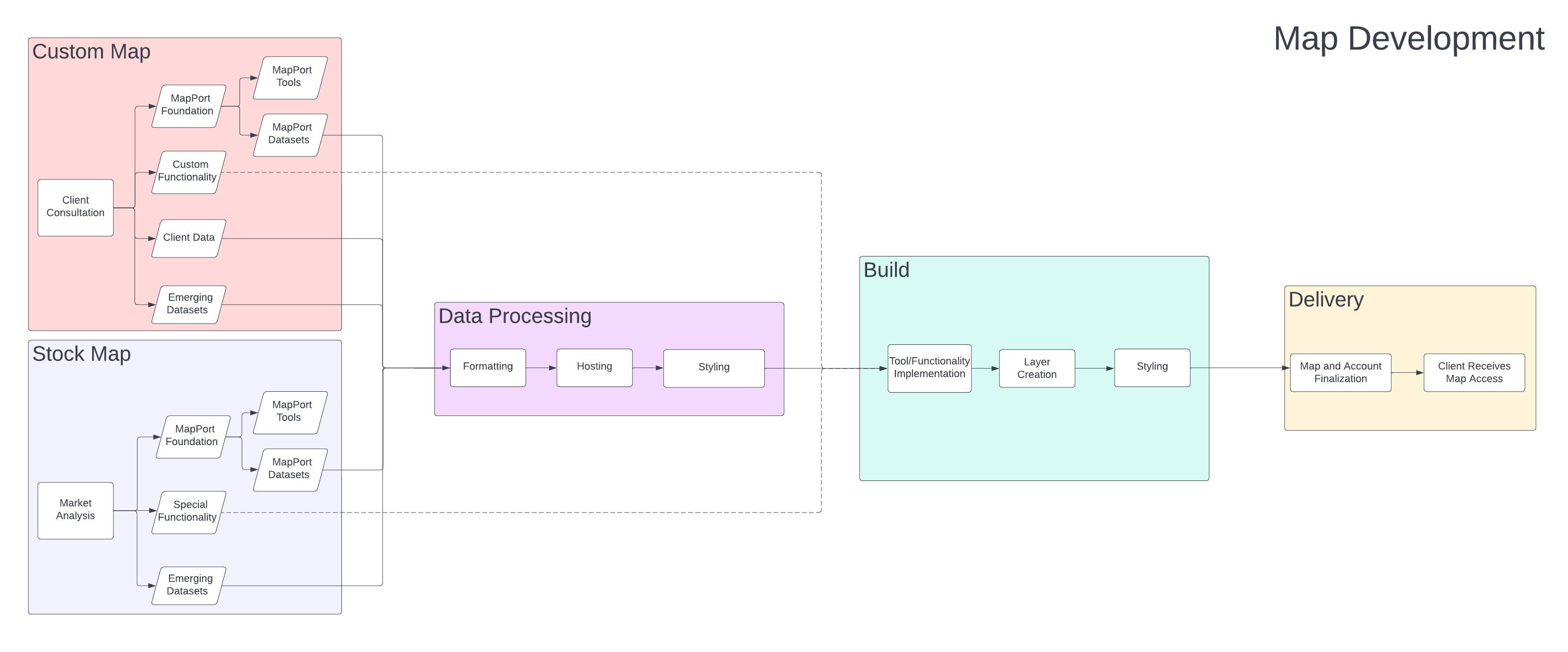 Is MapPort based on well-established software technology?
MapPort leverages globally respected, standards-based software technology through the open-source geospatial code stack, the same as powers services such as AWS and Uber. Our platform, proprietary data layers, and client-owned datasets reside on private, secure US based cloud servers. MapPort is fully compatible with all common GIS, CAD, and database file formats. No special skills are required on the part of the user to operate their maps. Following implementation, our clients can be confident that their ENPLAN web map is a globally respected, secure, mainstream, and well-supported solution. 
What sets MapPort apart?
The client operations MapPort serves depend on access to land division characteristics through to administrative partitioning by local, state, and federal government agencies responsible for management and regulation of use. They also depend on optimized search functionality with respect to attributes ranging from situs and tax assessor parameters to inherent land use entitlements and title status. Our unique Live Share tool and Collaborator Seats add-ons provide the strong collaboration functionality our clients require. And most important, MapPort development is driven directly by evolving client needs as they emerge, defined by our users on the ground, on the front lines of doing. MapPort delivers the essentials of what geospatial technology has to offer free from technical baggage.
What can my organization do with MapPort?
MapPort supports a range of activities, including investigative research, management of distributed resources, site analysis, use viability assessment, risk assessment, disaster preparedness engineering, infill opportunity identification and development, educational facilities administration, land assembly, and water infrastructure maintenance. Our custom maps are tailor-made in close collaboration with clients. Optimal implementation of datasets and functionalities unique to client operations are always the primary focus of our map development team. All our MapPort maps are backed directly by programmers continually advancing platform capabilities in direct response to user needs and experienced mapmakers who convert the client vision into reality. 
Contact us for an evaluation of the applicability of MapPort to the geospatial technology needs of your organization.  
Can I invest in the enterprise of MapPort development and commercial implementation?
The answer is yes. On the platform development side, there are many refinements and extensions needed. These involve delivering services to subsectors of industries beyond the present reach of MapPort. On the marketing side, little has been done to inform sectors of the MapPort resource. Thus far, uptake has been via word of mouth and website exposure. In both the cases of development and marketing, funding is needed to take the enterprise to the next level.  
Contact us for more information about investment options. 
© ENPLAN 2023.
MapPort® is an ENPLAN web map services platform.
Privacy Policy Terms of Service
wmsgroup@enplan.com (530) 402-4783