WILDFIRE VIEWER
AN ENPLAN WEB MAP SERVICE
The leading web map for tracking wildfires.
Detection, progression, extents and more.
United States, Canada, Mexico and beyond.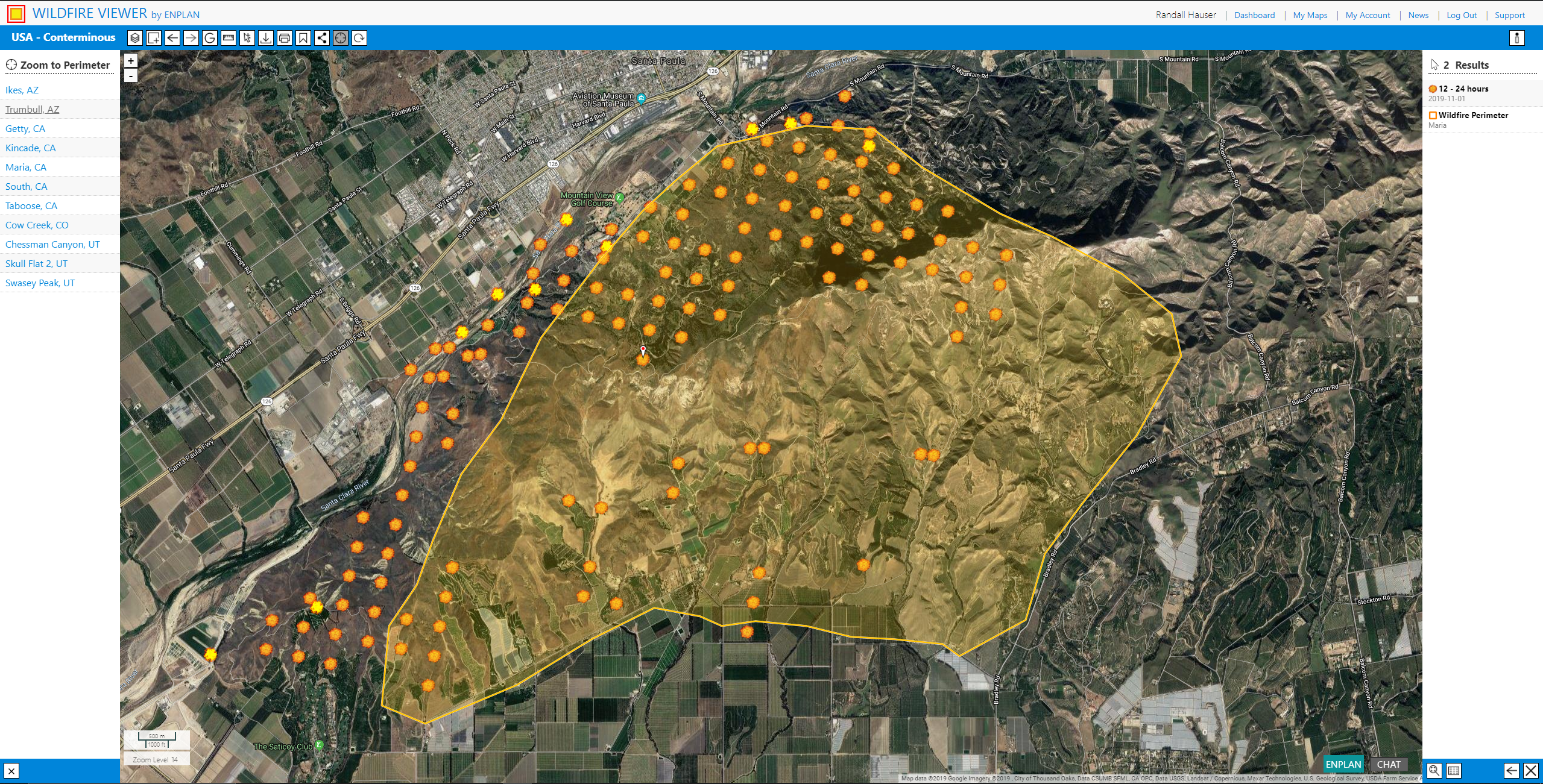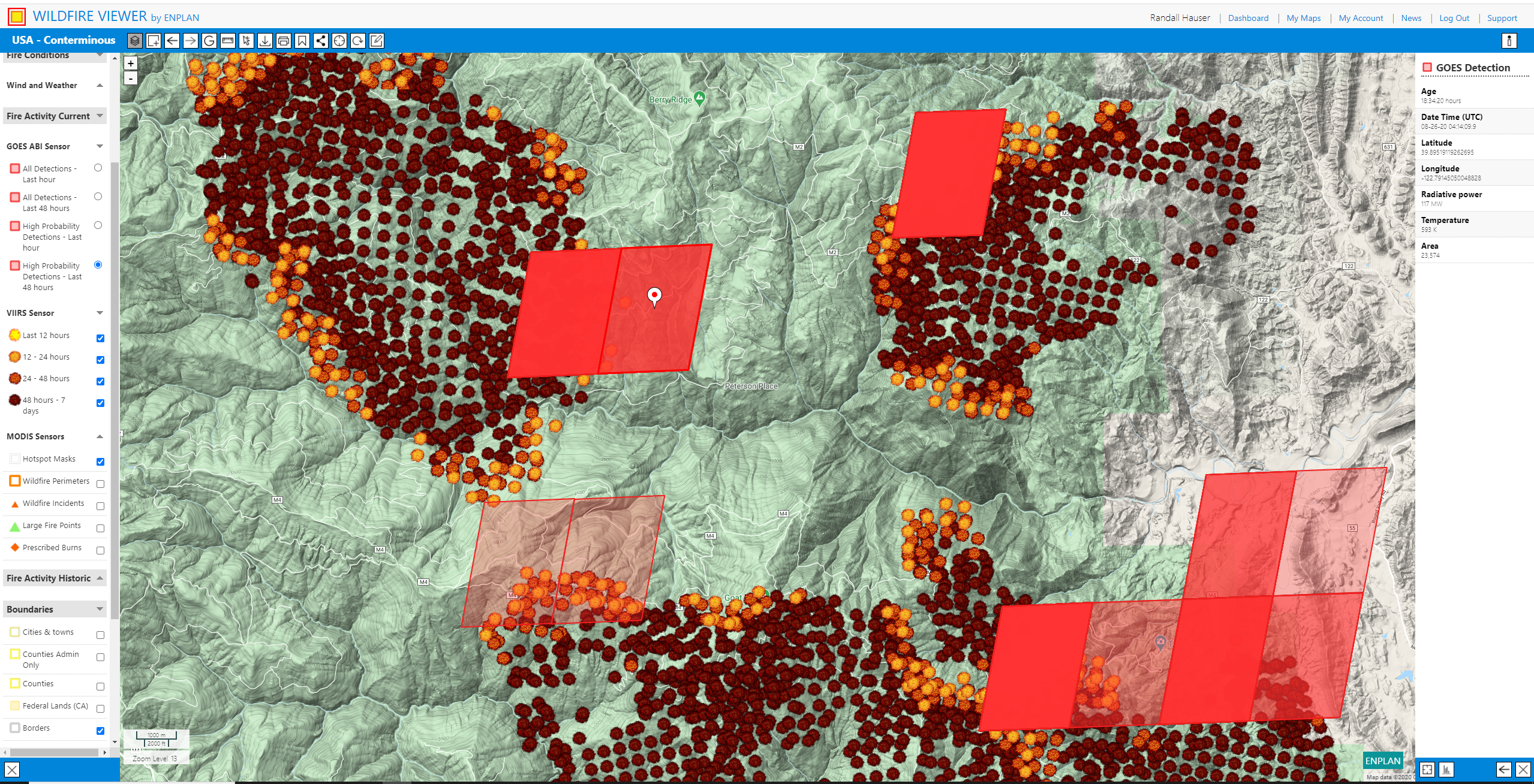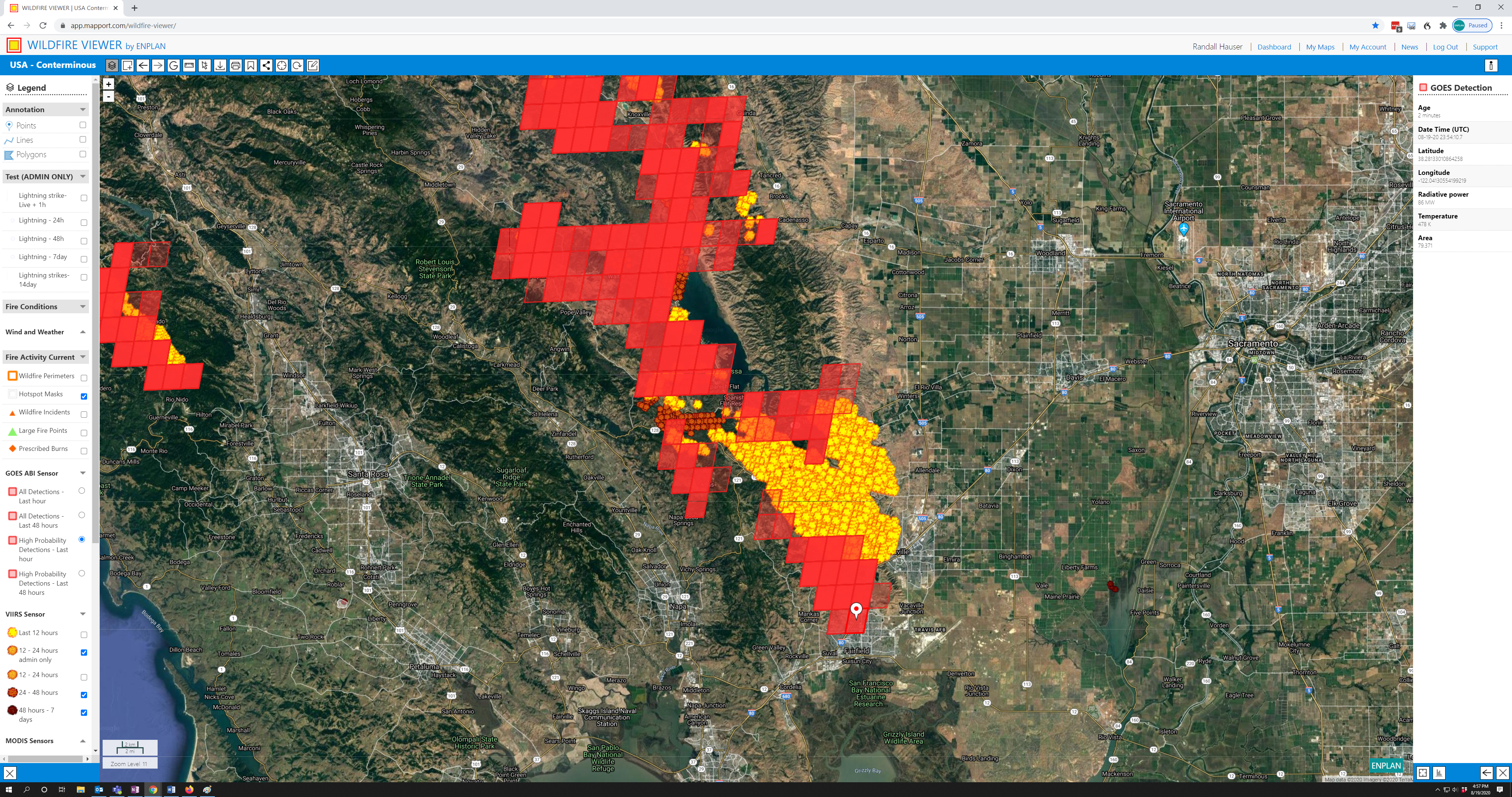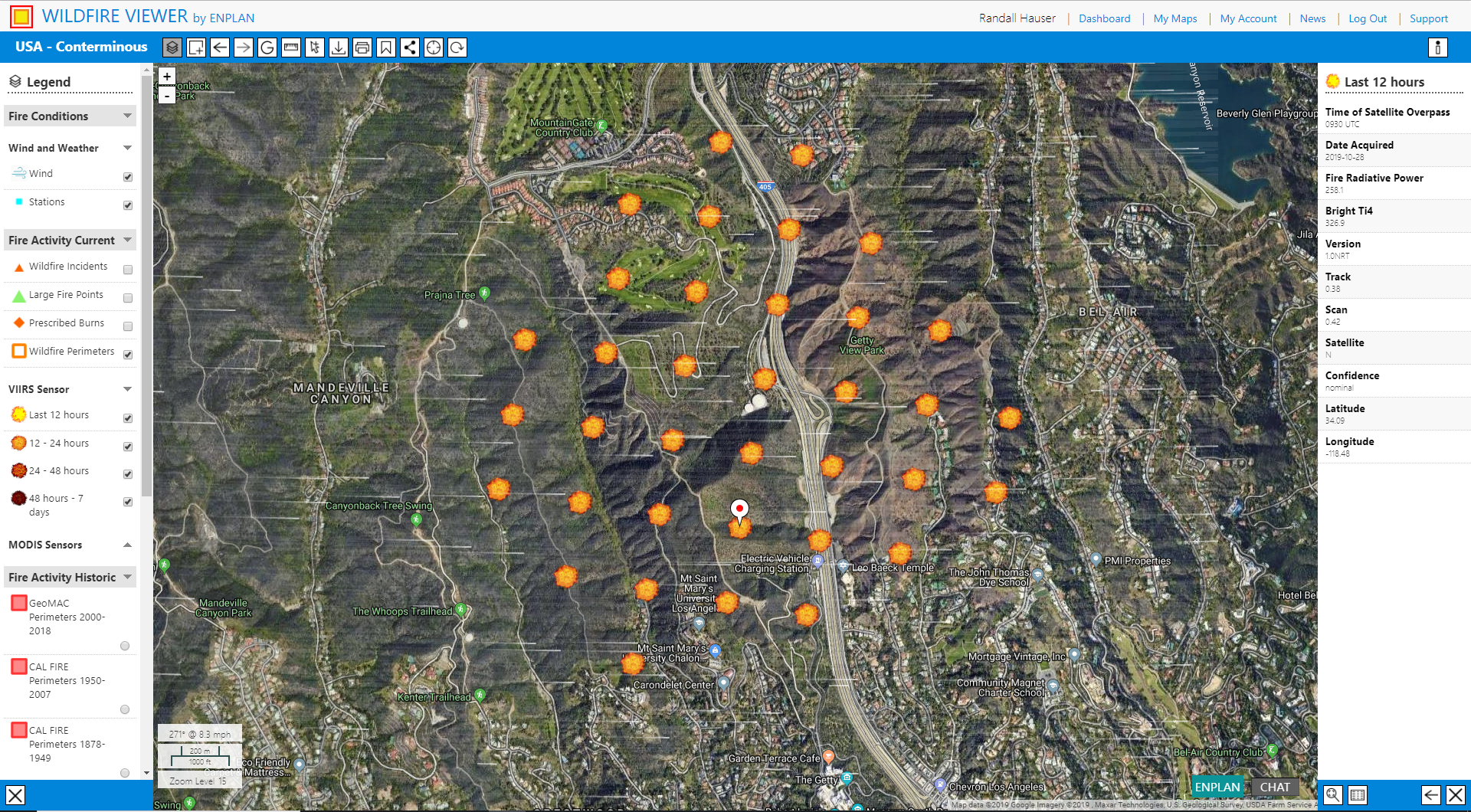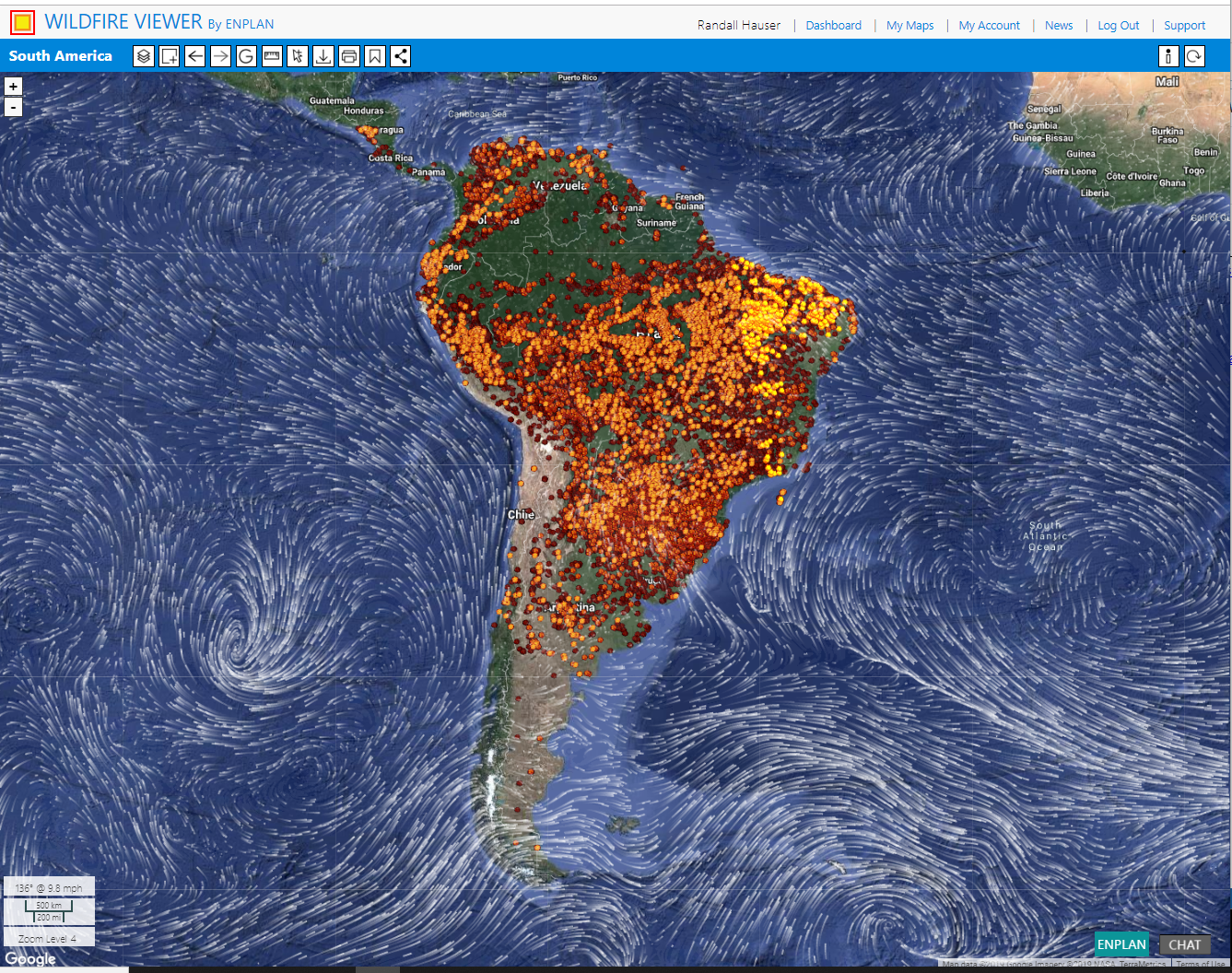 LNU Complex with GOES sensor polygons showing
LNU Complex with GOES detection polygons showing
South America in flames with NOAA wind 2019
Ranch and River Fires 2018

NASA HOTSPOTS
Hot spot detections by MODIS and VIIRS satellite sensors are displayed over familiar Google Maps Imagery. Unique symbol color age-gradient indicates fire progression and enables quick assessment of fire behavior, movement and threat. Detection times, radiative power, and other data are displayed in the right side-panel by clicking on symbols. Updated hourly.
GEOMAC PERIMETERS (US)
Wildfire containment perimeters display as they are posted to USGS GeoMAC by the lead fire agencies involved. Selectable historic perimeters map layers indicate previously burned areas. Click inside polygons for data about burn events. Updated hourly.
DATA LAYER GROUPS
Current Fire Activity
Inciweb Incidents (US)
GeoMAC Large Fire Points (US)
Prescribed Burns (Inciweb-US)
Wildfire Perimeters (GeoMAC-US)
NASA VIIRS and MODIS Hotspots (World)
Historic Fire Activity
GeoMAC perimeters 2000-2018 (US)
CAL FIRE Perimeters 1950-2007 (California)
Fire-affected areas 1878 – 1950 (California)
Fire Hazard Severity (CAL FIRE-California)
Wildfire Potential (NIFC – US)
Fire agency responsibility areas (California)
Local (LRA)
State CAL FIRE (SRA)
Federal (FRA)
Weather
Wind (Derived from NOAA Global Climate Model-World)
RAWS (Remote Automatic Weather Stations-Synoptic) (US)
BASE LAYERS – Easily toggle from layer to layer.
Google Hybrid Imagery (World)
Google Imagery (World)
Google Terrain
OpenStreetMap (open source)
US Topo. Live feed from USGS
USGS 7.5' Quadrangle (scanned and seamed)
TOOLS
Live Share. Send live map view links with full functionality lasting two hours.
Print and download. Insert title and print, or save as PDF, or export as PNG.
Google Street View. See nearest street view with two clicks.
Metrics. Measure distances and areas. Click points for coordinates.
Bookmarks. Save your views and return to them easily.
Zoom to Perimeter. Open current list of perimeters and zoom to instantly.
Annotate. Add point symbols to the map and attach your own data.
One month $29
Six months $159
Day Pass (24 hours) $10
COLLABORATOR SEATS
Extend ongoing map access out to others. Perfect for organizations.
$20/seat/month or $220 /seat/year.
Each SEAT permits another user to be logged in at one time.
Extend access to an unlimited number of users via simple email invitation.
The Administrator (you or whoever is assigned) always has access.
Users manage their own login credentials.
Control invited user access through the Administrator dashboard.
Collaborator Seats work across all your ENPLAN PV maps.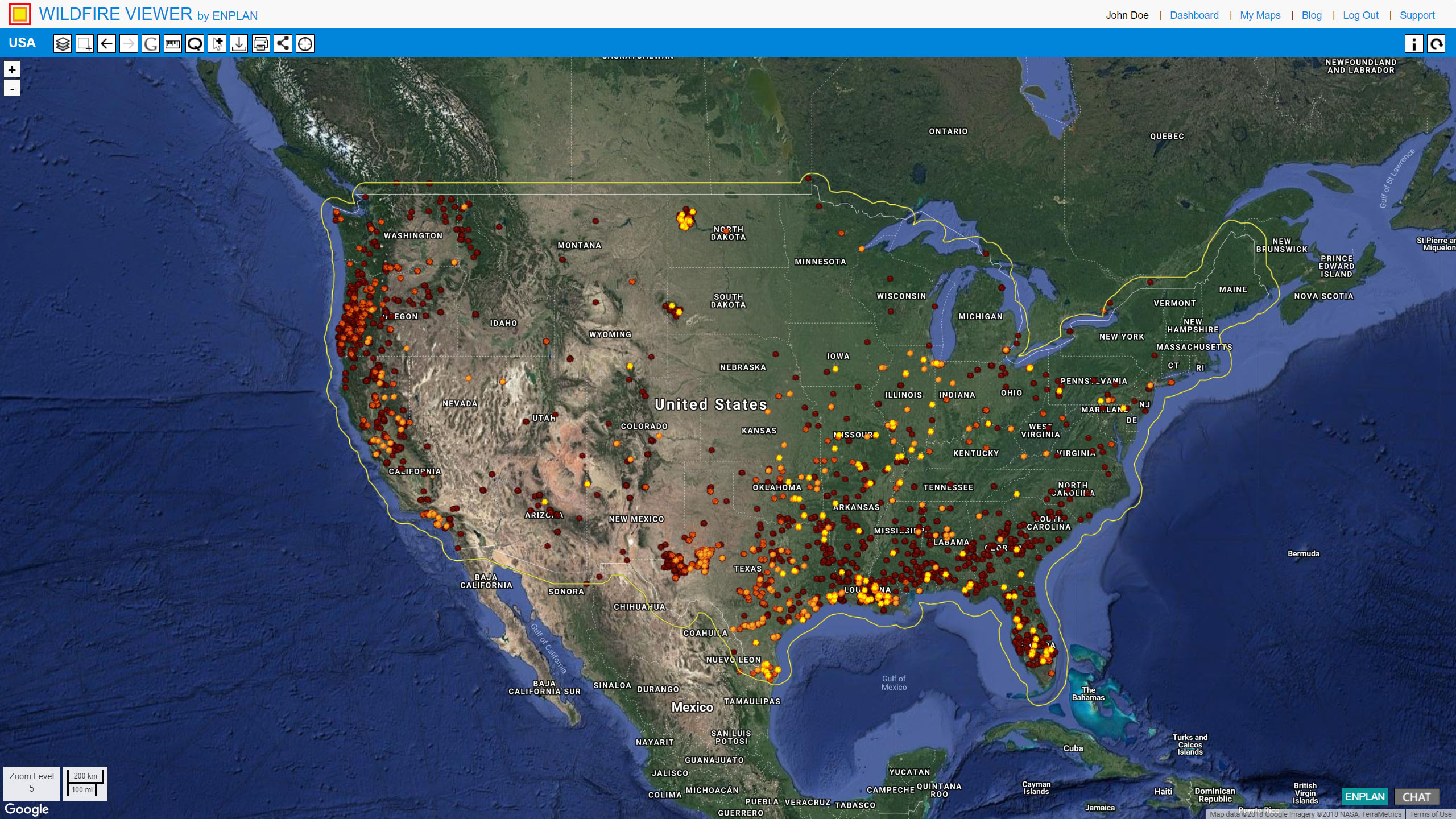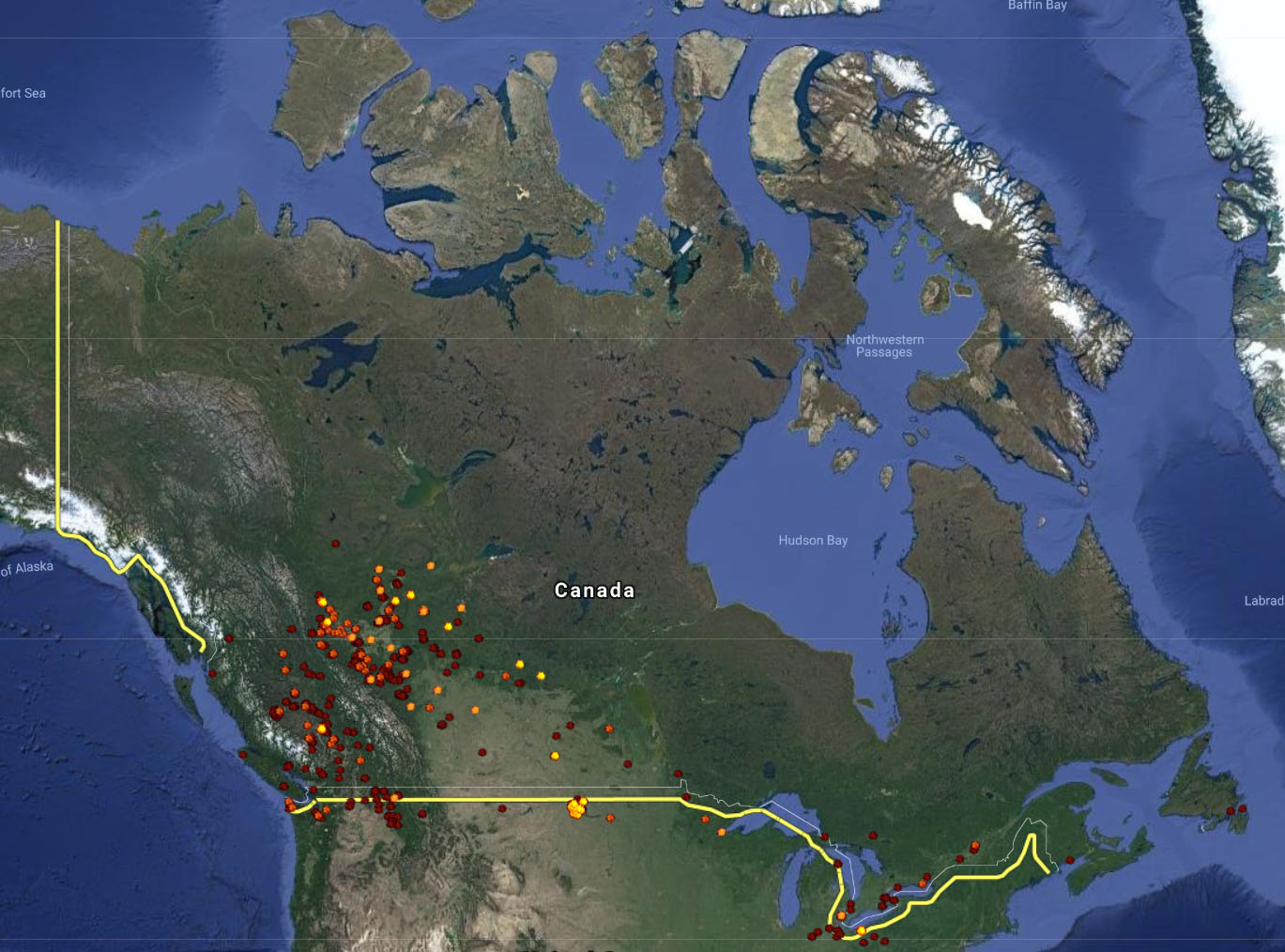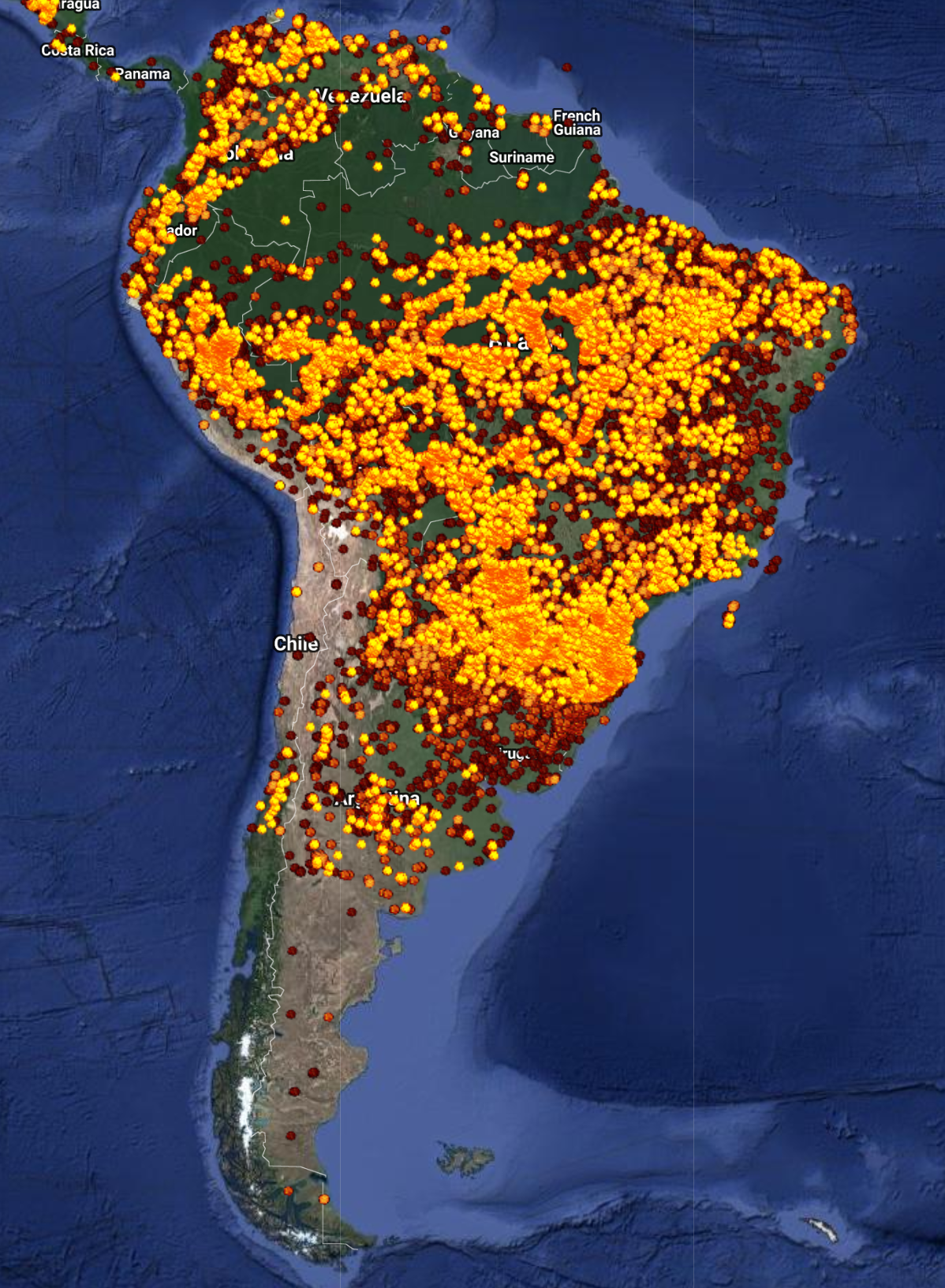 AUGMENT WITH YOUR DATA
Wildfire Viewer is built on our open source software platform, MapPort®, making it very easy to augment with data unique to your operation. It could be your own data or data acquired from other sources, private or public. For example, we can pin permits, case records or other documents you may have in a database to points in the map for purposes of spatial organization, work flow management, and ease of retrieval anywhere via browser. Our team is ready to provide a personal tour of WV and learn how best to serve your needs.
Get prompt assistance 9-5 Pacific time, Monday-Friday via phone or email. We are eager to help.
wmsgroup@enplan.com | (530) 402-4783
One month $29 | Six months $159 | Day Pass (24 hours) $10