The leading web maps for tracking wildfires. Detection, progression extents, intensities and much more. California, United States, Canada, and World.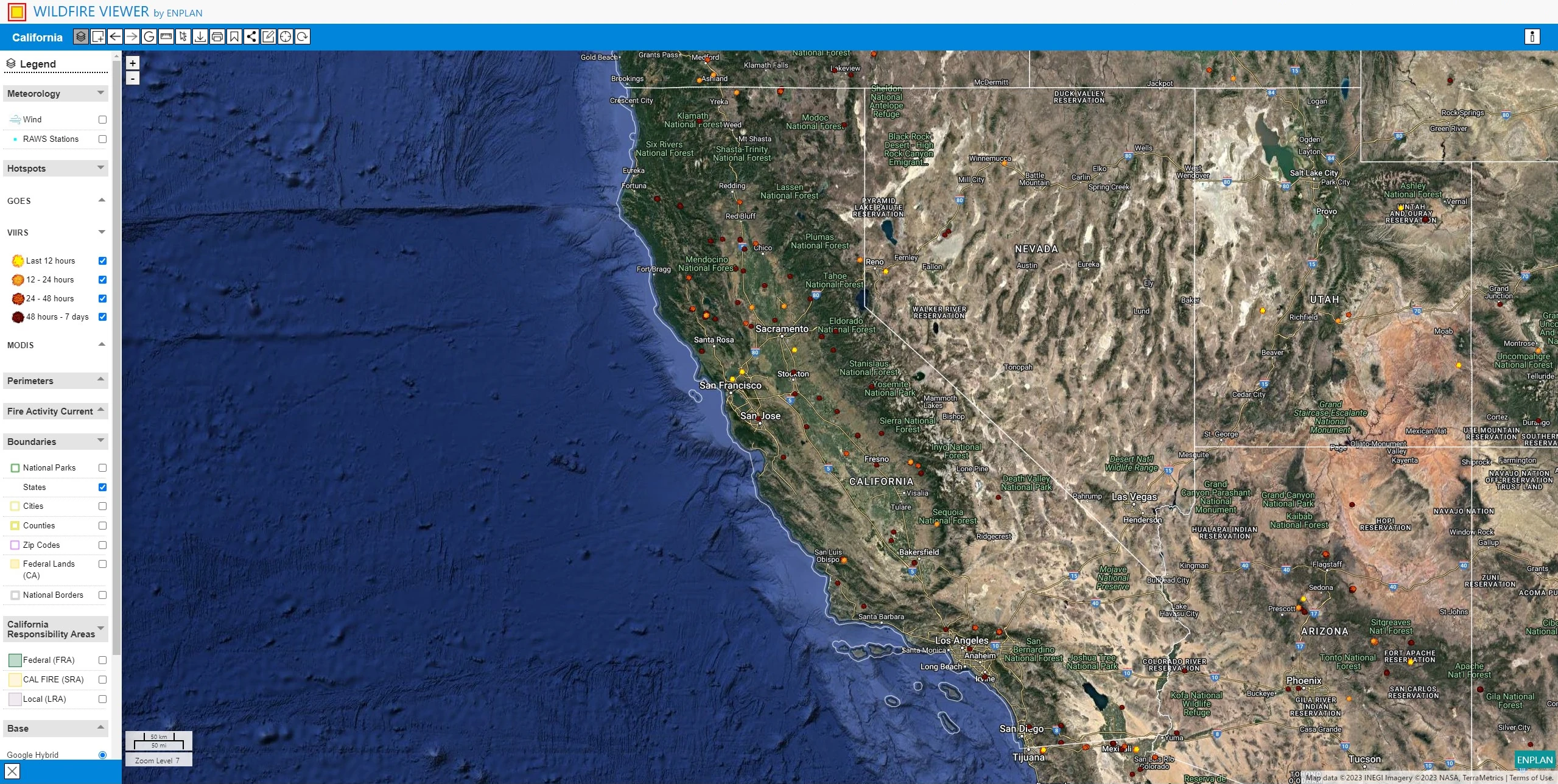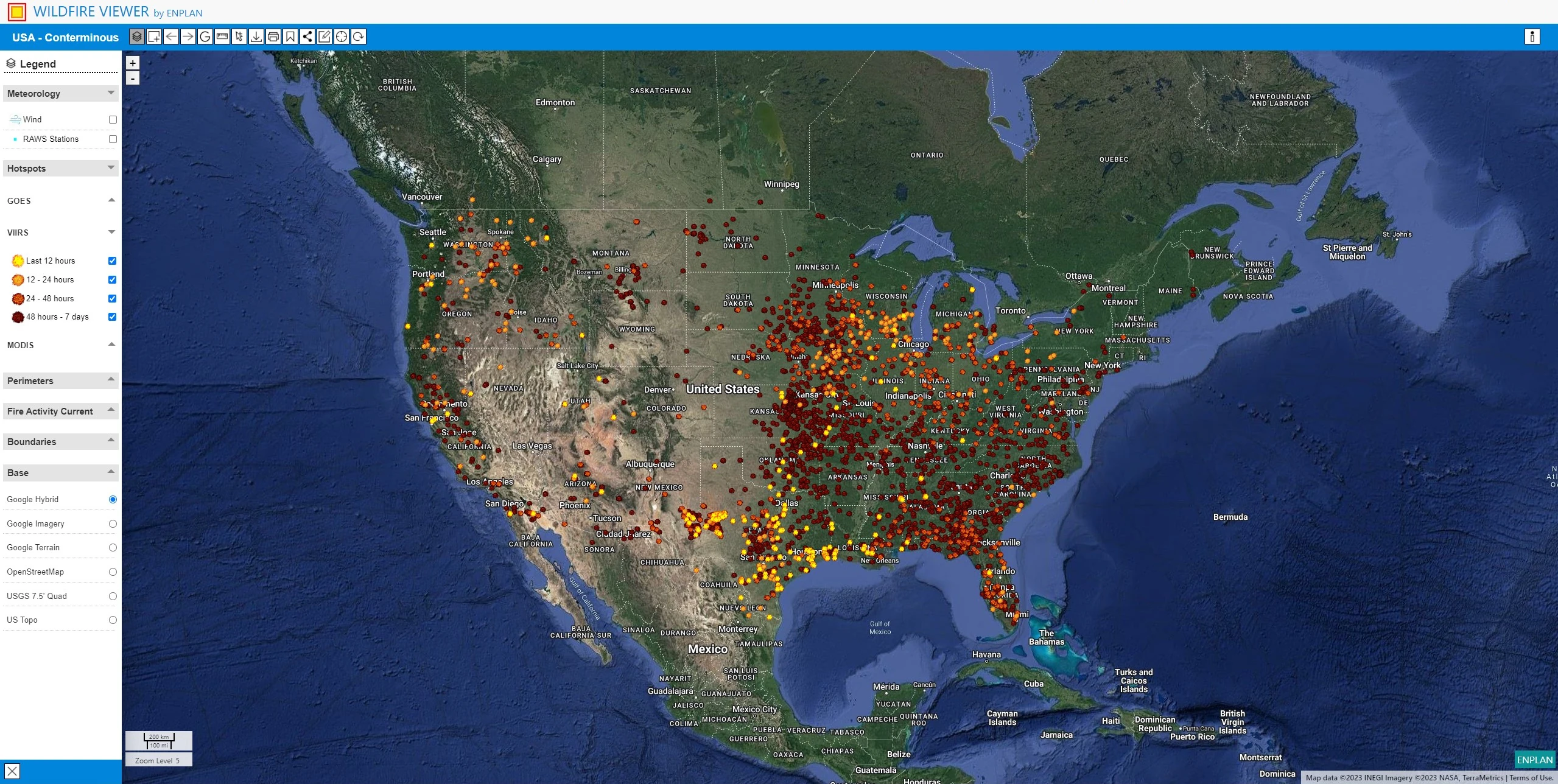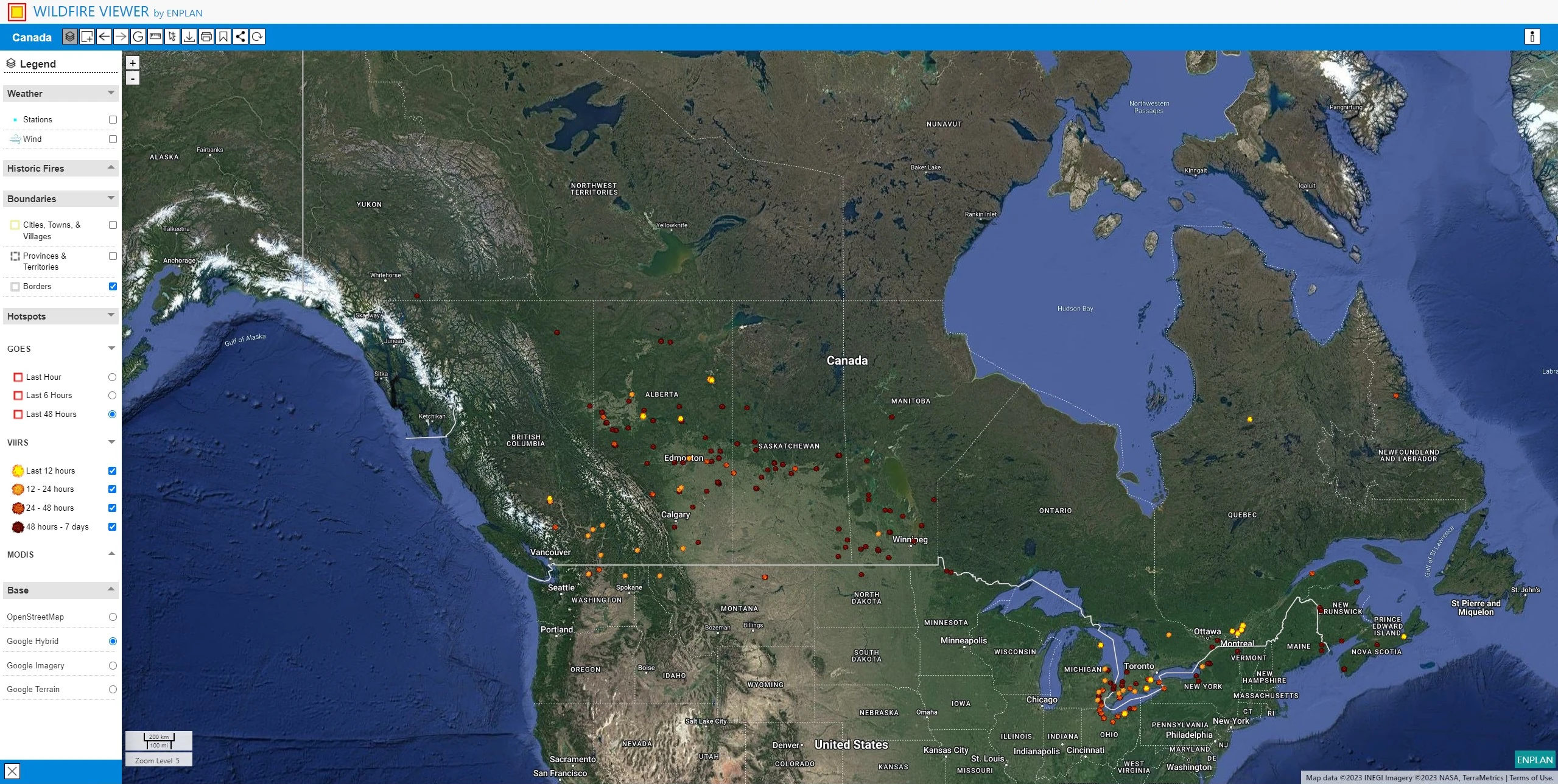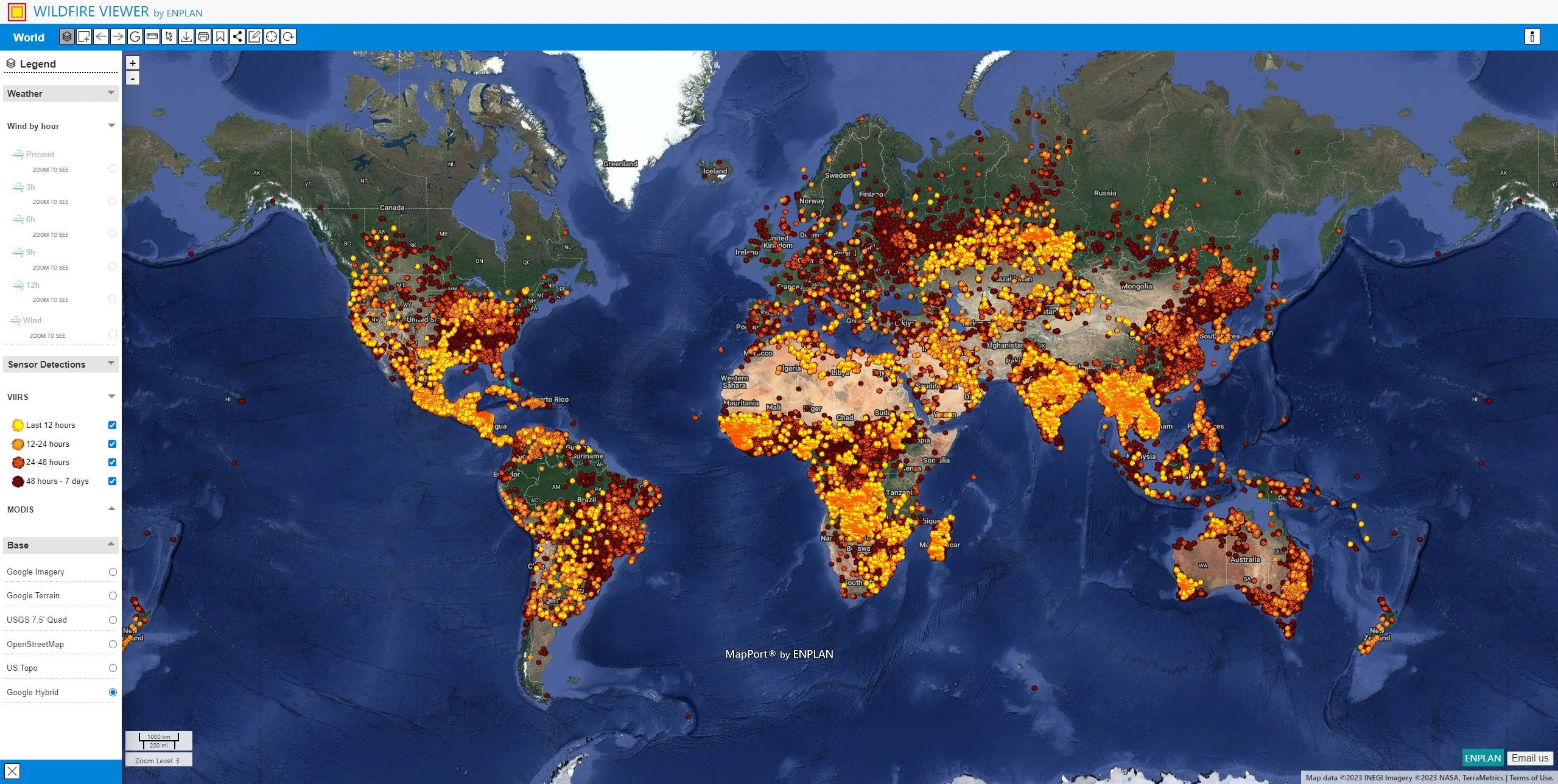 California Wildfire Viewer
USA Conterminous Wildfire Viewer
OUR MAP SYSTEM
Wildfire Viewer is a web map service specializing in providing current and historic wildfire data in an easily digestible format. Our wildfire data is the most current available from federal, state, and local agencies and updated every 5 minutes on our MapPort platform. All of this is overlayed on the most up-to-date aerial imagery provided by Google.
We have built Wildfire Viewer to be the most flexible, intuitive, and user-friendly wildfire data map on the market. We offer a map solution for many industries that is affordable yet rich in relevant data and features. Stop fighting with the unnecessarily complicated interfaces of other web map services and only pay for data within your geographic area of interest.
Already Have An Account?
Jump right back in by logging in.
NASA HOTSPOTS
Hotspot detections by NASA MODIS, VIIRS and GOES satellite sensors display over familiar Google Maps imagery. Unique symbol color age-gradient indicates fire progression and enables quick assessment of fire behavior and threat. Detection times, radiative power, and other data are displayed for individual fires in the right side-panel by clicking on symbols. Updated hourly.
FIRE PERIMETERS (US)
Wildfire containment perimeters display as they are posted to the National Interagency Fire Center (NIFC) database by the lead fire agencies involved. Selectable historic fire perimeter polygons indicate previously burned areas. Click inside polygons for data about burn events. Updated hourly.
MAP LAYERS
Our map layers consist of datasets collected from multiple local, state, and federal agencies. From NASA's hotspot data to NOAA's Global wind data; we have many datasets to help supplement your wildfire viewing needs.
Thermal Hotspots
NASA VIIRS and MODIS Hotspots (World)
NASA GOES Hotspots (North America)
Inciweb Incidents (US)
Prescribed Burns (Inciweb-US)
Wildfire Perimeters (NIFC-US)
Historic Fire Activity
NIFC perimeters 2002-2022 (US)
CAL FIRE Perimeters 1950-2007 (California)
Fire-affected areas 1878-1950 (California)
Fire agency responsibility areas (California)
Local (LRA)
State CAL FIRE (SRA)
Federal (FRA)
Meteorology
Wind. Derived from NOAA Global Climate Model (World)
RAWS. Remote Automatic Weather Stations-Synoptic (US)
BASE LAYERS
View wildfire data over Google Imagery, USGS and other high-quality backdrop layers. All our base layers are obtained directly from the source. Whether it is Google or The National Agriculture Imagery Program (NAIP), we offer multiple high quality basemap layers to help enhance your Parcel Viewer experience.
See more
Google Hybrid (with annotation)

Google Imagery (plain)

Google Terrain

OpenStreetMap

US Topo feed from USGS

USGS 7.5′ Quadrangle (beautiful, seamed, historic)
TOOLS
Wildfire Viewer is designed to maximize user workflow efficiency and quality of experience. We include many tools to help make operation fluid and intuitive.
See more
Advanced Select. Compile subject parcels and download ownership and other property data instantly.

Live Share. Send live map view links lasting two hours.

Print and Download. Insert title and print, or save as PDF, or export as PNG.

Google Street View. See the nearest street view with a click.

Bookmarks. Save your map views. Name and catalog. Reopen with a single click.

Metrics. Measure distances and areas. Click points for coordinates.

Annotation. Create and label points, lines, and polygons. Send links to annotated views using Live Share.
MOBILE APP
Access all fire data in the palm of your hand! Our MapPort mobile app is available for all devices.
SUPPORT
Get prompt assistance 9-5 Pacific time, Monday-Friday via phone or email. We are eager to help.
wmsgroup@enplan.com | (530) 402-4783
Existing client?
Log in
and click Add Services.
$49/month | $490/year | $15 Day Pass
Custom Maps: Contact us
MORE OPTIONS
Extend the effectiveness of Wildfire Viewer by adding functionalities and other data you may need. If you do not see what you would like, please tell us what you envision. Our team loves solving real-world problems for clients.
COLLABORATOR SEATS
Extend ongoing map access to others. Perfect for organizations.
$20/seat/month or $220/seat/year.
Each SEAT permits another user to be logged in at one time.
Extend access to an unlimited number of users via simple email invitation.
The Administrator (you or whoever is assigned) always has access.
Users manage their own login credentials.
Control invited user access through the Administrator dashboard.
Collaborator Seats work across all your ENPLAN PV maps.
CUSTOM MAPS – MAKE YOUR OWN MAP WITH YOUR DATA ADDED
Wildfire Viewer is built on our open source software platform, MapPort®, making it very easy to add data unique to your operation. It could be your own or data acquired from other sources, private or public. For example, we can pin permits, case records or other documents you may have in a spreadsheet to points in the map for purposes of spatial organization, workflow management, and ease of retrieval anywhere via browser. Our team is ready to provide a personal tour of WV and learn how best to serve your needs.