What sets us apart.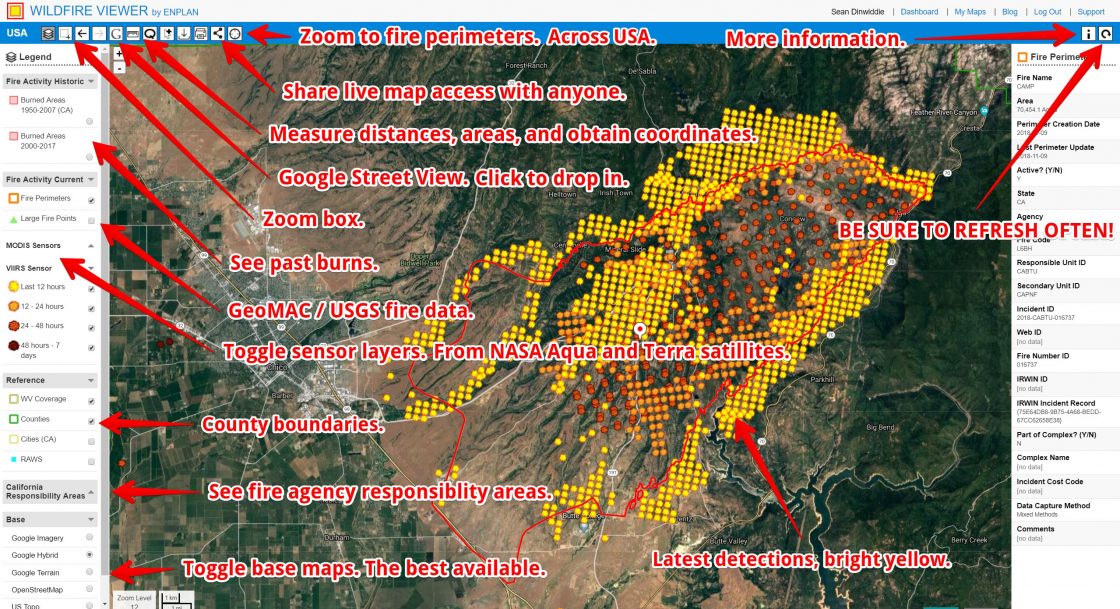 WILDFIRE VIEWER is an ENPLAN project designed to extend public access to live NASA and GeoMAC wildfire data and enable users to interpret fires as they emerge. WILDFIRE VIEWER'S user-friendly interface and unique tools provide a valuable solution to time-critical wildfire challenges for the general public as well wildfire professionals.
The majority of publicly available web maps are burdened with out of date and non-intuitive interfaces. WILDFIRE VIEWER was designed with ease of use as its primary goal, excising extraneous pop ups, drop downs, and other distracting elements in favor of a clean and simple, one click for information interface. This effortless map viewing process optimizes workflow and can be mastered be even non-technically savvy users in minutes.
WILDFIRE VIEWER's mapped data includes hotspots gathered from NASA's MODIS and VIIRS Sensors, current boundaries of major fires, and historical burn areas. By clicking on a desired feature relevant information will be displayed with descriptive tooltips. This data is collected hourly and displayed in an approachable manner.
WILDFIRE VIEWER includes an array of powerful yet easy to use tools. The zoom to perimeter tool conveniently lists all current officially designated fires in the United States. Clicking on a fire's name gives you detailed data and sends you directly to an up-close view of that fire, where temporally symbolized hot spots allow you to track progression and predict future movements. Further analysis can be undertaken using the metric tool, which allows users to measure distance and area directly on the map. Using the print tool, .pdf or .png printout of the current map view can be created with two clicks.
The combination of powerful tools, up to date information and intuitive interface makes WILDFIRE VIEWER the best wildland fire mapping solution. Subscribe today to begin viewing wildfires new you.